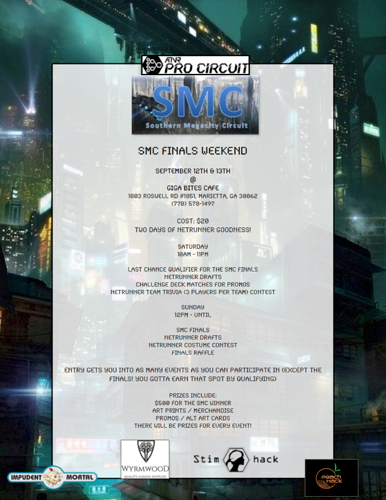 You can see more details at the Facebook event page here: SMC Finals Weekend
Please Pre-Register! You can lock in your spot by PayPaling Giga Bites by sending payment to gigabitescafe@yahoo.com with title SMC Finals. Include your full name and we'll be keeping an updated list up on the event page.
If you qualified in one of the SMC Qualifiers your entry is covered and your name will be added to the registered list when it gets posted.
If you plan on staying in the area check out the following info:
Crestwood Suites of Marietta-Roswell Road
Address: 2030 Roswell Rd, Marietta, GA 30062
Phone:(678) 560-6667
Giga Bites serves food (quite good food) and is also close to many restaurants.
Please send any questions here or email to smctournamentcontact@gmail.com
Current list of Pre-Registered/Qualified players:
1.Sean Pacer - Qualified
2.Aaron Konnick - Qualified
3.Ahmed Abbasi - Qualified
4.Hollis Eacho - Qualified
5.Michael Norman - Qualified
6.Cory Hockman - Qualified
7.Jesse Nicholson - Qualified
8.JJ Novacek - Qualified
9.Miles Crosskey - Qualified
10.Kevin Hamilton - Qualified
11.Austin Sutherland - Qualified
12.Ross Freitag - Qualified
13.Richard Baxter - Qualified
14.Matt Sanders - Qualified
15.Hap Fiandt - Qualified
16.Corey Waugh - Qualified
17. Ricky Rivera - Qualified
18.Luke Golden - Qualified
19.Tristen Ray - Qualfied
20.Mark Czirr-Qualifed
21.Blake Golin-Qualifed
22.
23.
24.