Announcing the Summer Team Tournament (aka Inter-Store Friendly).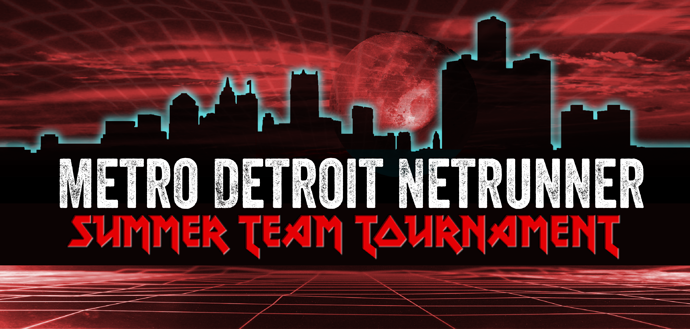 The event will consist of four-player teams representing each faction (including Neutral runners) for various stores in the area or teams from stores that want to make the trek to sunny Warren, MI.
WHEN: Saturday, July 30
TIME: Noon
WHERE: Eternal Games (26051 Hoover Rd, Warren, MI 48089)
ENTRY: The entry fee will be $10 per team member ($40 per team).
PRIZES: Sponsored by ANRPC and will have some prizes from them (i.e. custom metal dice, playmats and other goodies).
MWL: This event will have the new [NAPD Most Wanted List 1.1] (https://images-cdn.fantasyflightgames.com/filer_public/e5/b5/e5b567d5-2873-4731-b2b6-5d3020b2bb02/adn_tournament_regulations_v113.pdf) in effect a few days earlier than the printed date of August 1st.
Keep up to date with the Facebook event.
If you want to participate on one of the teams, please contact your coordinator:
If you want to coordinate for a store that's not listed, let me know. We'll have enough room for at least 3-5 more teams.
Here is a link to the current teams that I'll update as teams are formed:
We'll also have some side events for anyone that wants to come out and support their local teams (i.e. cube drafting).