IMPORTANT: Proof of COVID-19 vaccination OR a mask will be REQUIRED to be added to the tournament roster. See statement below.
It's OTG busting out from the throes of a global pandemic, ready to lift that one finger salute up high and finally host another event put together by the homies of the Mead Crüe. We had to cancel 2020's outing, but now Minnesota ANR's favorite illicit bloodsport is back and going bigger and better than ever. You're gonna get exactly what we promised last year: More competition. More events. More swag.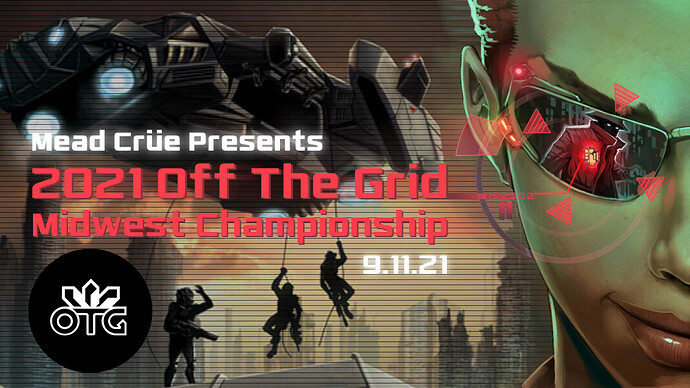 And we're still ridin' up dirty on the GameZenter (formerly Fantasy Flight Game Center) like we don't give no f***s. Because baby, that whole past year has us in a mood. We're taking it out on our [formerly] FFG homies by wresting control for two whole days: Saturday Swiss, Sunday Cut, Sunday Side Events. If that sounds good to you, come and kick it with us.
Keep eyes on this spot in the coming month to see more of that OTG swag. Oh, and the prizes too.
Details:
THIS WILL BE A NISEI STORE CHAMP OR REGIONAL, DEPENDING ON WHEN OP STARTS THE SEASON. OFFICIAL KIT AND BYES WILL BE UP FOR GRABS.
Event goes down at 10:00AM CT on 9/11/21 at GameZenter (formerly Fantasy Flight Games Event Center). For those that don't know, this is at 1975 County Road B2 W, Roseville, MN 55113, USA. We're doing registration for Day 1 roughly at 10:00AM, with cards hitting the tables at 11:00AM. Day 2 will start at 10:30AM with all qualifying participants.
Day 1 Rounds are going to be 65 minutes, with roughly 4-6, depending on attendance. A break after the second round, around 1:10PM, will be observed for lunch and/or dinner. FFG has food, but does not allow anything ordered in. The break will be roughly an hour. Plan accordingly. There's not a whole lot close other than nasty fast food.
Day 2 Rounds will begin with more Swiss, followed by a Top 4/8 Cut, depending on attendance. Less attendance means possibly less Swiss. Potentially, depending on attendance, there may be a progressive cut going into Day 2 (this is unlikely, but we'll let y'all know).
Day 2 will also run a small Eternal tournament. We have to work out the details, but tentatively this will be a small Swiss with a Top 4. Either that, or pods of 6-8 players with three rounds of Swiss and no Cut. That's all TBD.
Entry Fee will be $15 via Eventbrite. I need people to pre-order the tix to support the event and to get an idea of attendance. I will do same-day registrations and payment, but I can't accept any cash at the venue. Also, I have a cap of 64 seats (with possible wiggle room), so this guarantees you a spot!
(Tickets will go on sale 7/4/21 at 11:00AM and be available up to the day of the event unless sold out. Possible increases in the cap will be looked at if we reach it.)
FULL NISEI TOURNEY RULES, FLOOR RULES, MWL, AND PACK LEGALITY WILL BE OBSERVED. Even though this is an illicit event, we're not animals. Please familiarize yourself with whatever the current official rules are, as we will be following them in the spirit of keeping this close to actual competitive Netrunner.
Players will be expected to bring decklists (or fill out on-site), and adhere to all established NISEI policies for conduct, tournament rules, and Standard Format card legality.
Scorched Earth & Hunter Seeker Prizes:
Additional prize opportunities are what makes this OTG. Check it:
Scorched Earth is a Minnesota ANR and Mead Crüe tradition. It is a special, undisclosed prize awarded to the lowest ranked non-dropped player. This is to reward their tenacity and perseverance for sticking with it even after it's pretty clear winning isn't in the cards (no pun intended). I know it's possible, but please don't intentionally drop games for this.
Hunter Seekers are bounties on the heads of any former Worlds Top 16 Competitors in attendance (we may get @spags, @aandries, @Ajar, @paranoid, @dashakan). It's simple: If you are paired against and best one of these top players, you'll have your choice of @babyweyland's excellent alt art IDs.
Links:
Always Be Running Page
Eventbrite Ticket Purchasing Page
Facebook Event Page
Decklist Submission Forms
NISEI Code of Conduct
NISEI OP Policies & Floor Rules
NISEI Standard Format
SUPPORT ARTISTS, BUY ALTS!
Kysra Alts: https://www.makeplayingcards.com/sell/kysra
MeanLady Alts: https://www.makeplayingcards.com/sell/meanladyaltarts
(Any and all event details are subject to change. Also, the above is in jest; we love our FFG homies. In the case of any saltiness, please know that any and all dickish comments will be ignored and summarily dismissed.)