It's Bandcamp Friday and I can reveal there are new tunes on the horizon!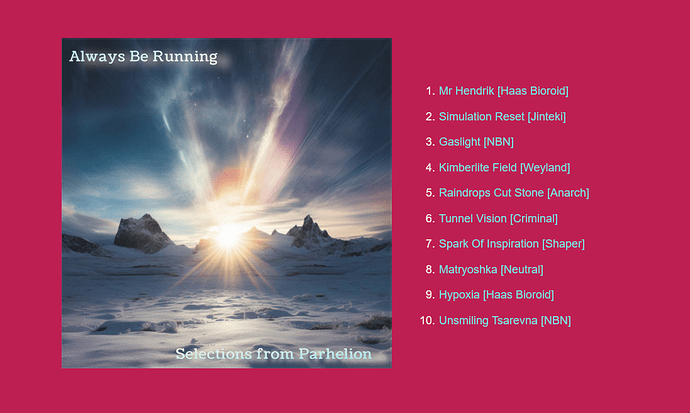 Selections From Parhelion will be released just as Worlds 2023 begins, on Fri 13th Oct!
I've been working on it for a while with lots of cool new gear I've been able to invest in thanks to your support.
In the meantime, use code 'parhelion' for 50% off anything else on my page this weekend!
Always Be Running is a collection of four instrumental electronica albums inspired by Netrunner with each track representing an existing card from the pool. They've been used as backing music in live-streaming events and the official NSG podcast, and could provide the ideal ambiance for your own games! Also on the page are my vapourwave sailing album True Wind, and a few choice covers.
Bandcamp Friday is a special arrangement from Bandcamp where on the first Friday of every month since the pandemic started, they waive their usual processing/hosting fees for all music on their site, so 100% goes to the artists.