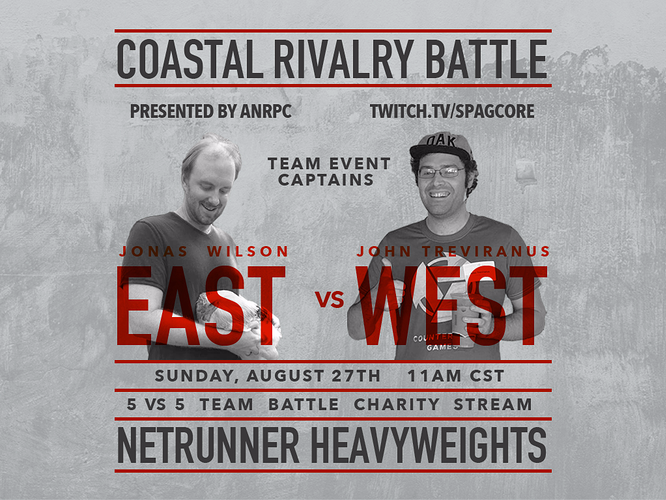 (major props to @eric_c for the dope af poster)
Welcome to the ANRPC East v. West Coastal Rivalry Battle, a late summer celebration of Android: Netrunner and giving. Two heavy hitters will be gathering together a team of five people on their side of the Mississippi River to go to cyberwar. From the Eastern Coast of the U.S., we have Jonas 'thebigunit3000' Wilson, 2017 Regional winner and former ANRPC MAC winner. The West Coast is helmed by the current U.S. National Champion and former Worlds top 16 competitor John 'joseki' Treviranus. Both players, in addition to being wonderful human beings, are known for their innovative, if frustrating to play against, decks, being some of the preeminent creative minds in the game today.
Each time will gather a team of 5 players, with the King of Servers rule that no one on the team can duplicate identities, and all 7 major factions in the game must be represented. The current MWL will be in effect. To start, each team will send forth a competitor, and they will randomly determine sides. After that, in the fashion of the Topdeck series, the losing team will send forth someone new, their previously losing teammate having been eliminated. The new challenger will select sides, and play will continue until one team has been completely eliminated.
This being a charity event, we are looking for donations. All proceeds will be donated to charities of the teams' choice, with the split being 60-40%, higher amount going to the winning team. Here are the donation options:
$2 - Your name will be read on stream, along with a brief statement/shout-out/frustration/etc.
$12 - A steel HB ETF/ST double-sided ID, or 2 metal ANRPC dice (colors are a limited amount of green, or the upcoming purple or pink, which will be sent out when they arrive). S&H is included in the U.S. If you wish to donate at this level more than once, each additional donation is $10.
$40 - You will be able to come onto the stream to commentate on one of the games, randomly chosen.
All donations can be made to PayPal.Me (please include your address!)
If you have any questions, feel free to ask!
Date: August 27th, 2017
Time: 11AM CST (GMT -5)
Location: Twitch