Our local playgroup in Canada has noticed this frustrating trend and I thought I would get some feedback from the community on here, and inform those who are unaware of eBay's newish policy.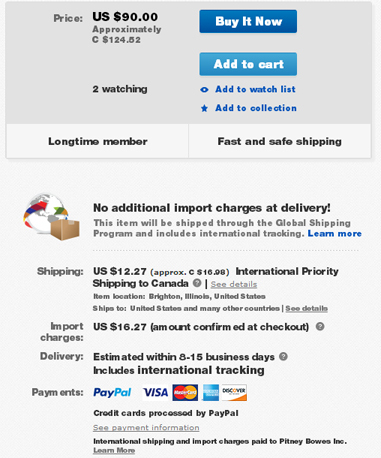 Above is a screencap of a Jackson Howard Promo x3 auction. The price isn't bad, but what I want to draw your attention to is the import charges eBay is now charging under their "Global Priority Shipping". In addition to the ridiculous cost of shipping 3 cards in the mail, they also expect us to pay $16 in import fees, which they categorize as any of the following: brokerage fees, import and duty fees, additional shipping fees.
The problem is that this new initiative has no way to distinguish between loose, sealed, used or new product. It treats these promos the same as it would a sealed box of MtG or sports cards. This is also turned on by default on American auctions if they offer international shipping. They did this without really informing the vendors, and many were wondering why their international sales plummeted.
The exchange rate is already horrible. You can see the difference in price is almost 140%, so don't expect us to cough up an additional $40 in shipping and fees for 3 cards. It's even worse when the auction is for 1 card that is around $100, because the fees are pretty much the same.
International Runners, be careful of these fees as they are often listed in small print, especially on the mobile pages. People looking to sell their promos, check to make sure this option is turned off. You may think it looks convenient, but you are going to limit your potential audience. You also can't turn this off once an auction has gone live. You will have to cancel and relist.