Jinteki.net will integrate the new MWL and FAQ changes soon.
Here's a snapshot of the stats before the changes for posterity. It includes games played from June 24th till July 18th.
Cadash who's undefeated and 1st on the Corp top has many unfinished games. I suspect he leaves his losing games before completion. He played mostly IG so that probably skews the IG stats as well.
The next player ranking will integrate the number of unfinished games in the ranking calculation.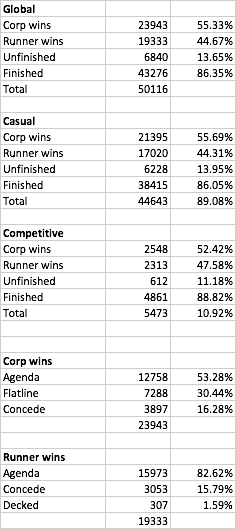 Corp Meta
"Haas-Bioroid: Engineering the Future", "count" : 5755, "won" : 3067, "lost" : 2688, "winrate" : 0.5329278887923544
"Near-Earth Hub: Broadcast Center", "count" : 3828, "won" : 2503, "lost" : 1325, "winrate" : 0.6538662486938349
"Argus Security: Protection Guaranteed", "count" : 3270, "won" : 1929, "lost" : 1341, "winrate" : 0.5899082568807339
"Pālanā Foods: Sustainable Growth", "count" : 3094, "won" : 1943, "lost" : 1151, "winrate" : 0.6279896574014221
"Jinteki: Personal Evolution", "count" : 2769, "won" : 1530, "lost" : 1239, "winrate" : 0.5525460455037919
"Blue Sun: Powering the Future", "count" : 2653, "won" : 1419, "lost" : 1234, "winrate" : 0.5348661892197513
"SYNC: Everything, Everywhere", "count" : 2280, "won" : 1389, "lost" : 891, "winrate" : 0.6092105263157894
"NBN: Making News", "count" : 2080, "won" : 1120, "lost" : 960, "winrate" : 0.5384615384615384
"Weyland Consortium: Building a Better World", "count" : 1813, "won" : 963, "lost" : 850, "winrate" : 0.5311638168781025
"New Angeles Sol: Your News", "count" : 1341, "won" : 858, "lost" : 483, "winrate" : 0.639821029082774
"Haarpsichord Studios: Entertainment Unleashed", "count" : 1180, "won" : 679, "lost" : 501, "winrate" : 0.5754237288135593
"Spark Agency: Worldswide Reach", "count" : 1165, "won" : 707, "lost" : 458, "winrate" : 0.6068669527896996
"Titan Transnational: Investing In Your Future", "count" : 1079, "won" : 541, "lost" : 538, "winrate" : 0.5013901760889713
"Gagarin Deep Space: Expanding the Horizon", "count" : 1051, "won" : 565, "lost" : 486, "winrate" : 0.5375832540437678
"Harishchandra Ent.: Where You're the Star", "count" : 937, "won" : 495, "lost" : 442, "winrate" : 0.528281750266809
"Jinteki: Replicating Perfection", "count" : 906, "won" : 509, "lost" : 397, "winrate" : 0.5618101545253863
"NEXT Design: Guarding the Net", "count" : 801, "won" : 357, "lost" : 444, "winrate" : 0.44569288389513106
"Cybernetics Division: Humanity Upgraded", "count" : 737, "won" : 255, "lost" : 482, "winrate" : 0.34599728629579374
"Harmony Medtech: Biomedical Pioneer", "count" : 716, "won" : 329, "lost" : 387, "winrate" : 0.4594972067039106
"Jinteki Biotech: Life Imagined", "count" : 666, "won" : 335, "lost" : 331, "winrate" : 0.503003003003003
"Nisei Division: The Next Generation", "count" : 577, "won" : 309, "lost" : 268, "winrate" : 0.5355285961871751
"Industrial Genomics: Growing Solutions", "count" : 559, "won" : 388, "lost" : 171, "winrate" : 0.6940966010733453
"GRNDL: Power Unleashed", "count" : 554, "won" : 276, "lost" : 278, "winrate" : 0.4981949458483754
"Chronos Protocol: Selective Mind-mapping", "count" : 526, "won" : 238, "lost" : 288, "winrate" : 0.4524714828897338
"Tennin Institute: The Secrets Within", "count" : 523, "won" : 243, "lost" : 280, "winrate" : 0.4646271510516252
"The Foundry: Refining the Process", "count" : 505, "won" : 202, "lost" : 303, "winrate" : 0.4
"Haas-Bioroid: Stronger Together", "count" : 504, "won" : 175, "lost" : 329, "winrate" : 0.3472222222222222
"NBN: Controlling the Message", "count" : 359, "won" : 233, "lost" : 126, "winrate" : 0.649025069637883
"Custom Biotics: Engineered for Success", "count" : 281, "won" : 105, "lost" : 176, "winrate" : 0.3736654804270463
"Weyland Consortium: Because We Built It", "count" : 278, "won" : 56, "lost" : 222, "winrate" : 0.2014388489208633
"Cerebral Imaging: Infinite Frontiers", "count" : 258, "won" : 131, "lost" : 127, "winrate" : 0.5077519379844961
"Weyland Consortium: Builder of Nations", "count" : 95, "won" : 29, "lost" : 66, "winrate" : 0.30526315789473685
"NBN: The World is Yours*", "count" : 88, "won" : 41, "lost" : 47, "winrate" : 0.4659090909090909
Runner Meta
"Kate "Mac" McCaffrey: Digital Tinker", "count" : 4941, "won" : 2329, "lost" : 2612, "winrate" : 0.47136207245496864
"Andromeda: Dispossessed Ristie", "count" : 4903, "won" : 2369, "lost" : 2534, "winrate" : 0.4831735672037528
"Whizzard: Master Gamer", "count" : 3561, "won" : 1905, "lost" : 1656, "winrate" : 0.5349620893007582
"Noise: Hacker Extraordinaire", "count" : 3146, "won" : 1280, "lost" : 1866, "winrate" : 0.406865861411316
"Hayley Kaplan: Universal Scholar", "count" : 2987, "won" : 1390, "lost" : 1597, "winrate" : 0.46534984934717105
"Valencia Estevez: The Angel of Cayambe", "count" : 2791, "won" : 1452, "lost" : 1339, "winrate" : 0.5202436402723039
"Armand "Geist" Walker: Tech Lord", "count" : 2301, "won" : 1150, "lost" : 1151, "winrate" : 0.4997827031725337
"Chaos Theory: Wünderkind", "count" : 1777, "won" : 633, "lost" : 1144, "winrate" : 0.3562183455261677
"MaxX: Maximum Punk Rock", "count" : 1589, "won" : 819, "lost" : 770, "winrate" : 0.5154185022026432
"Leela Patel: Trained Pragmatist", "count" : 1546, "won" : 796, "lost" : 750, "winrate" : 0.5148771021992238
"Edward Kim: Humanity's Hammer", "count" : 1510, "won" : 563, "lost" : 947, "winrate" : 0.37284768211920527
"Gabriel Santiago: Consummate Professional", "count" : 1486, "won" : 670, "lost" : 816, "winrate" : 0.4508748317631225
"Sunny Lebeau: Security Specialist", "count" : 1330, "won" : 471, "lost" : 859, "winrate" : 0.35413533834586464
"Jesminder Sareen: Girl Behind the Curtain", "count" : 1185, "won" : 472, "lost" : 713, "winrate" : 0.3983122362869198
"Adam: Compulsive Hacker", "count" : 1145, "won" : 469, "lost" : 676, "winrate" : 0.4096069868995633
"Ken "Express" Tenma: Disappeared Clone", "count" : 1108, "won" : 434, "lost" : 674, "winrate" : 0.3916967509025271
"Quetzal: Free Spirit", "count" : 973, "won" : 416, "lost" : 557, "winrate" : 0.42754367934224047
"Rielle "Kit" Peddler: Transhuman", "count" : 885, "won" : 302, "lost" : 583, "winrate" : 0.34124293785310733
"Reina Roja: Freedom Fighter", "count" : 803, "won" : 291, "lost" : 512, "winrate" : 0.36239103362391034
"Silhouette: Stealth Operative", "count" : 598, "won" : 183, "lost" : 415, "winrate" : 0.3060200668896321
"Laramy Fisk: Savvy Investor", "count" : 507, "won" : 155, "lost" : 352, "winrate" : 0.3057199211045365
"Apex: Invasive Predator", "count" : 498, "won" : 197, "lost" : 301, "winrate" : 0.39558232931726905
"The Professor: Keeper of Knowledge", "count" : 478, "won" : 163, "lost" : 315, "winrate" : 0.3410041841004184
"Nasir Meidan: Cyber Explorer", "count" : 347, "won" : 107, "lost" : 240, "winrate" : 0.30835734870317005
"Nero Severn: Information Broker", "count" : 264, "won" : 89, "lost" : 175, "winrate" : 0.3371212121212121
"Null: Whistleblower", "count" : 245, "won" : 91, "lost" : 154, "winrate" : 0.37142857142857144
"Iain Stirling: Retired Spook", "count" : 168, "won" : 55, "lost" : 113, "winrate" : 0.3273809523809524
"Exile: Streethawk", "count" : 133, "won" : 59, "lost" : 74, "winrate" : 0.44360902255639095
Top 20 Corp players
"cadash", "count" : 53, "won" : 53, "lost" : 0, "winrate" : 1, "rating" : 0.7945205479452054
"turtle", "count" : 86, "won" : 72, "lost" : 14, "winrate" : 0.8372093023255814, "rating" : 0.7264150943396226
"Maren", "count" : 102, "won" : 82, "lost" : 20, "winrate" : 0.803921568627451, "rating" : 0.7131147540983607
"kyokorebit", "count" : 48, "won" : 43, "lost" : 5, "winrate" : 0.8958333333333334, "rating" : 0.7058823529411765
"Ingseyl", "count" : 122, "won" : 95, "lost" : 27, "winrate" : 0.7786885245901639, "rating" : 0.704225352112676
"TugtetguT", "count" : 109, "won" : 85, "lost" : 24, "winrate" : 0.7798165137614679, "rating" : 0.6976744186046512
"sorano", "count" : 82, "won" : 66, "lost" : 16, "winrate" : 0.8048780487804879, "rating" : 0.696078431372549
"panda22", "count" : 84, "won" : 66, "lost" : 18, "winrate" : 0.7857142857142857, "rating" : 0.6826923076923077
"raphaeln", "count" : 57, "won" : 47, "lost" : 10, "winrate" : 0.8245614035087719, "rating" : 0.6753246753246753
"dkavaichan", "count" : 134, "won" : 99, "lost" : 35, "winrate" : 0.7388059701492538, "rating" : 0.6753246753246753
"dulux", "count" : 143, "won" : 104, "lost" : 39, "winrate" : 0.7272727272727273, "rating" : 0.6687116564417178
"donkeybum", "count" : 82, "won" : 63, "lost" : 19, "winrate" : 0.7682926829268293, "rating" : 0.6666666666666666
"cursor", "count" : 114, "won" : 84, "lost" : 30, "winrate" : 0.7368421052631579, "rating" : 0.664179104477612
"jean", "count" : 80, "won" : 61, "lost" : 19, "winrate" : 0.7625, "rating" : 0.66
"bionicsheep", "count" : 47, "won" : 39, "lost" : 8, "winrate" : 0.8297872340425532, "rating" : 0.6567164179104478
"mylreid", "count" : 159, "won" : 112, "lost" : 47, "winrate" : 0.7044025157232704, "rating" : 0.6536312849162011
"Happy Puppy", "count" : 51, "won" : 41, "lost" : 10, "winrate" : 0.803921568627451, "rating" : 0.647887323943662
"trare", "count" : 31, "won" : 28, "lost" : 3, "winrate" : 0.9032258064516129, "rating" : 0.6470588235294118
"Facecheck", "count" : 84, "won" : 62, "lost" : 22, "winrate" : 0.7380952380952381, "rating" : 0.6442307692307693
"theparty", "count" : 58, "won" : 45, "lost" : 13, "winrate" : 0.7758620689655172, "rating" : 0.6410256410256411
Top 20 Runner players
"raphaeln", "count" : 57, "won" : 48, "lost" : 9, "winrate" : 0.8421052631578947, "rating" : 0.6883116883116883
"TugtetguT", "count" : 142, "won" : 100, "lost" : 42, "winrate" : 0.704225352112676, "rating" : 0.6481481481481481
"Belryan", "count" : 133, "won" : 94, "lost" : 39, "winrate" : 0.706766917293233, "rating" : 0.6470588235294118
"andreasrem1980", "count" : 24, "won" : 23, "lost" : 1, "winrate" : 0.9583333333333334, "rating" : 0.6363636363636364
"trare", "count" : 51, "won" : 40, "lost" : 11, "winrate" : 0.7843137254901961, "rating" : 0.6338028169014085
"thebigunit3000", "count" : 57, "won" : 43, "lost" : 14, "winrate" : 0.7543859649122807, "rating" : 0.6233766233766234
"dishywashy", "count" : 49, "won" : 38, "lost" : 11, "winrate" : 0.7755102040816326, "rating" : 0.6231884057971014
"Bilitherubin", "count" : 48, "won" : 37, "lost" : 11, "winrate" : 0.7708333333333334, "rating" : 0.6176470588235294
"netrunnerunner", "count" : 95, "won" : 66, "lost" : 29, "winrate" : 0.6947368421052632, "rating" : 0.6173913043478261
"Teemo", "count" : 65, "won" : 47, "lost" : 18, "winrate" : 0.7230769230769231, "rating" : 0.611764705882353
"gameli", "count" : 82, "won" : 57, "lost" : 25, "winrate" : 0.6951219512195121, "rating" : 0.6078431372549019
"symbolic", "count" : 64, "won" : 46, "lost" : 18, "winrate" : 0.71875, "rating" : 0.6071428571428571
"jude111", "count" : 94, "won" : 64, "lost" : 30, "winrate" : 0.6808510638297872, "rating" : 0.6052631578947368
"ZacharyXylophone", "count" : 101, "won" : 68, "lost" : 33, "winrate" : 0.6732673267326733, "rating" : 0.6033057851239669
"surepiet", "count" : 48, "won" : 36, "lost" : 12, "winrate" : 0.75, "rating" : 0.6029411764705882
"Dracon_ian", "count" : 70, "won" : 49, "lost" : 21, "winrate" : 0.7, "rating" : 0.6
"treznor", "count" : 54, "won" : 39, "lost" : 15, "winrate" : 0.7222222222222222, "rating" : 0.5945945945945946
"Smaug", "count" : 61, "won" : 43, "lost" : 18, "winrate" : 0.7049180327868853, "rating" : 0.5925925925925926
"binnet", "count" : 83, "won" : 56, "lost" : 27, "winrate" : 0.6746987951807228, "rating" : 0.5922330097087378
"kwind", "count" : 117, "won" : 76, "lost" : 41, "winrate" : 0.6495726495726496, "rating" : 0.5912408759124088
Most Corp games
"Deathntaxes", "count" : 206
"Thana.", "count" : 184
"woodsy212", "count" : 183
"InOuterSpace", "count" : 176
"nandemo", "count" : 164
"mylreid", "count" : 159
"Aya Senpai", "count" : 157
"Rozen", "count" : 156
"Mordeqai", "count" : 154
"Elli", "count" : 147
"dihawk13", "count" : 145
"WildSam", "count" : 145
"dulux", "count" : 143
"AlexFrost", "count" : 140
"Zeofar", "count" : 139
"geist", "count" : 136
"Pestilence", "count" : 135
"dkavaichan", "count" : 134
"Kapital2", "count" : 132
"leonalightmyfire", "count" : 125
Most Runner games
"Jamesgrey", "count" : 379
"BizTheDad", "count" : 285
"Pestilence", "count" : 265
"NorwegianLegion", "count" : 236
"Synisill", "count" : 216
"neo_chess", "count" : 171
"dkavaichan", "count" : 161
"daytodave", "count" : 150
"Custard Pie", "count" : 148
"kitchenap", "count" : 142
"TugtetguT", "count" : 142
"Jagren", "count" : 137
"ejg5124", "count" : 137
"Smart_Alex", "count" : 137
"Belryan", "count" : 133
"hewlett", "count" : 127
"Voodoofly", "count" : 125
"ngorman@uwyo.edu", "count" : 122
"Alan :3", "count" : 121
"mephi", "count" : 118