Announcing KING OF SUBWAYS II, the annual New York City Android: Netrunner Players Circuit event!
King of Subways II will be held on Saturday, April 21st at Nu Brand Gaming in Brooklyn. Signups will begin at 10am, with Round 1 beginning at 11am sharp.
King of Subways II is a team event, with each team consisting of 3 players. Each team must have three different runner factions represented (each minifaction being its own faction) and three different corp factions. Prizes at the end will be awarded to the entire team. In the spirit of KoS, table talk between teammates and opponents is allowed and encouraged (although not to the point of stalling/slow play).
King of Subways II will consist of 5 Swiss rounds of 70 minutes each. Round pairings will be between teams with the closest total prestige points, with players paired in prestige order (e.g. the top player on one team faces the top player on the other).
King of Subways II will use current errata, rotation, and the Most Wanted List.
All NYC Netrunner events adhere to the ANRPC Code of Conduct: http://www.anrplayerscircuit.com/code-of-conduct
Outside food and drink will be permitted at King of Subways II.
PRIZES:
All participants will receive one ANRPC alternate-art NBN: Controlling the Message (by Alexis Spicer) special to this event. In addition, each attendee will receive two metal ANRPC dice (black).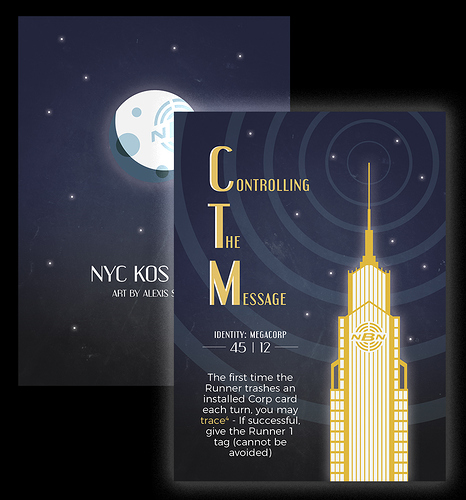 First place: First pick of a set of ANRPC promo IDs, 65% of the prize pot
Second place: Second pick of a set of ANRPC promo IDs, 35% of the prize pot
Third place: Free entry into NYC Regionals (or equivalent cash if they don't plan on attending)
Additional prizes (playmats, psi dice, etc.) may be added at the TO's discretion; raffles will also be held through the day.
REGISTRATION:
The entry fee for KoSII will be $20 per player ($15 for Nu Brand members). Payment will be taken at the door, cash-only. All proceeds will be used to compensate prize, cover membership fees, or added to the prize pot.
Registration link here: https://goo.gl/4po8Wx
Entry at the door is also welcome, although players cannot register without a team that morning.