This will be the first thread I make on the Stimhack forums, as I generally prefer to comment in threads from time to time, and it's rare, to me, that a new discussion needs to be opened. I am posting this information on Stimhack because I do not know a better place for it, although currently, it probably applies to more than just the competitive/Stimhack ANR community.
There is a NetrunnerDB exploit (a predictable one that has been discussed as potentially happening for some time now) that allows an astute user to parse through NetrunnerDB for private decklists that have not been published. This only applies to accounts using the share decklists feature, but has affected a surprisingly broad number of players already. This is not purely hypothetical - I can confirm that the exploit is currently known and being used by one group in preparation for the World Championship in 2017 (maybe more on that later). If you have made decks with this feature on, especially if you are at all a known player, your decks have likely already been pulled. There is currently no other way to share unpublished decks on NetrunnerDB, which is unfortunate, as it's moved some of us to sharing decks by text-only, and has affected the way others among us share (if you check out @TheBigBoy's blog, many links now go to hidden decklists).
Anyway, you can still use NetrunnerDB without being affected if you change your account settings. It's a couple short steps:

Then just uncheck the share box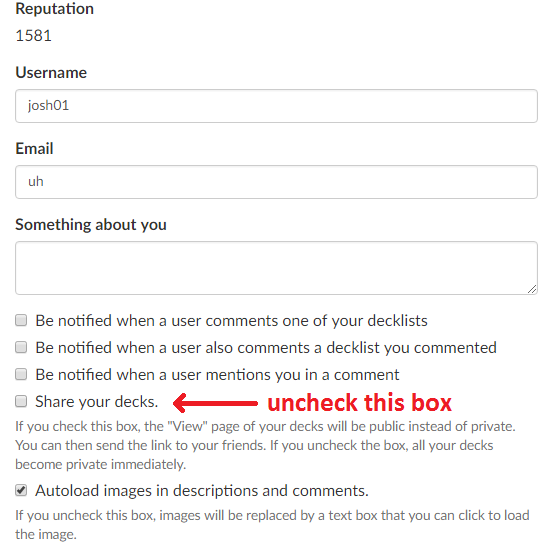 I've been told @Alsciende has been contacted about this and is working on a fix, and a couple stimhack users personally tried to provide a fix (although this proved to not do anything against the tools currently developed). In the meantime, you can just change your account settings.