So a few years ago I was working on some Netrunner stuff and had some artwork done. It's been sitting around collecting dust. Just pulled them up as I was digging through my archives reminiscing and realized that some of this art would make good T-Shirts.
So take a look and answer the poll! If there's enough interest, I'll have my artist tweak them a bit and we'll put them up on a T-Shirt site somewhere for purchase!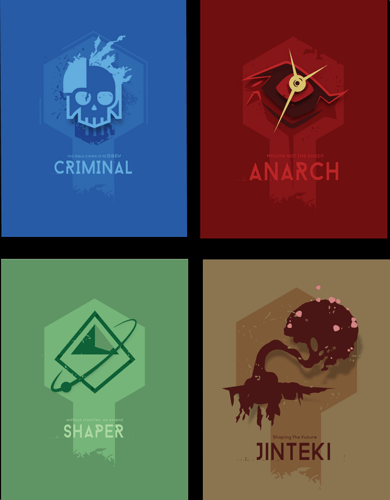 Absolutely!
Meh. Not interested.
UPDATE July 2nd:
First versions w/ the icons only for Runners are up at RedBubble. I'm working on versions that look good given the printing methods and t-shirt options with the names + tag lines + etc. I should have those up by the 4th.
https://www.redbubble.com/people/netizen01/works/32506052-shaper?asc=u&p=classic-tee
https://www.redbubble.com/people/netizen01/works/32507918-criminal?asc=u&p=classic-tee
https://www.redbubble.com/people/netizen01/works/32508211-anarch?asc=u&p=classic-tee