On NSG shop page for the Remastered Edition of System Update 2021, there is this warning: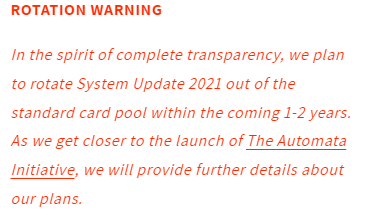 So now we know they will be printing a new System Update! What cards do you think will be dropped and what cards do you think will be added?
My predictions for the runner side are that we'll lose Reina Roja, Xanadu, Retrieval Run (since we have Katorga Breakout), Forged Activation Orders, Security Testing (since we have Info Bounty).
For the corp side I could see Corporate Troubleshooter, Lotus Field, Swordsman, License Acquisition and Building a Better World going. I suppose it really depends on what tools are printed in the new sets and how they want to shape the meta.