It's turn 9 already, the penguins are late.
Not entirely their fault though, not with a turn 1 like that. Double siphon into a wide open HQ, the penguins are scared.
But things are looking better now after 9 turns! We have made some money, we have well defended centrals and a crisium grid installed! Finally the penguins have arrived! It's time to go next turn.
My opponent seems never gets tired of siphoning me, even with 6pts already scored, he still tries to steal more money from me, click 1 draw, click 2 install same old thing, 3 and 4 siphoning me again, don't you see I have an upgrade installed on HQ!?


I decide to teach him a lesson, a mistake always needs to be punished, I rezzed the crisium grid and siphoned myself for 3 credits, he chose to access a card instead like a sane person, picked the agenda and won the game, even though I could have just tanked the one siphon and combo off next turn anyway.


Games like this always make me wonder why I'm still here playing in any sort of Netrunner tournament, let alone North American Championship. This year was especially a close call, not only I haven't played netrunner for months, I also didn't have time to keep up with all the slack technologies or spectate jnet games between celebrities or simply catch up all the recent packs. But most importantly, some of my favorite players can't make it to gencon this year, making it hard to justify the value.
There were many times I talked myself out of going to Gencon this year, but in the end something more important caught up to me. I have never considered myself a very strong player, but throughout living in the wonderful community for 3 years, I have became good friends of many competitive players and therefore become a factor in many people's equation on evaluating whether they will come or not, among those, there are people that's much more famous than myself, people that weighed a lot in other player's equation as well. Netrunner is the best card game I've ever played and probably the most original and stylish game design I've ever witnessed. Nothing hurts me more than seeing Netrunner's declining in tournament attendants, news, activities, prize supports. The least I can do is come out when I can, support netrunner event, communicate with FFG staff and make it enjoyable experience for anyone else.
It's all worth it, I'm so glad I made the final call on coming out without any preparation or even a deck. Not only because there are still some of my favorite people that made it there, I missed them a lot and would never get tired of hanging out with them, also because the amount of last minute help I got from players around the world was both overwhelming and heartwarming. I ended up making to the top 16 cut at NA nats, truly the power of friends.


I also met some wonderful new friends and had some great games against them.
So here I am, after going to gencon for 3 years and worlds for 2 years, I'm still massively impressed by the game itself and the community quality each time I came out to meet people in real life. I had an absolute blast at gencon 2017 and feel really fortunate and proud to be one of us. There have been some upsetting lack of attention from FFG to netrunner and in time like this, it's even more important that we stick together. Let's keep netrunner alive please. I don't want to lose this game.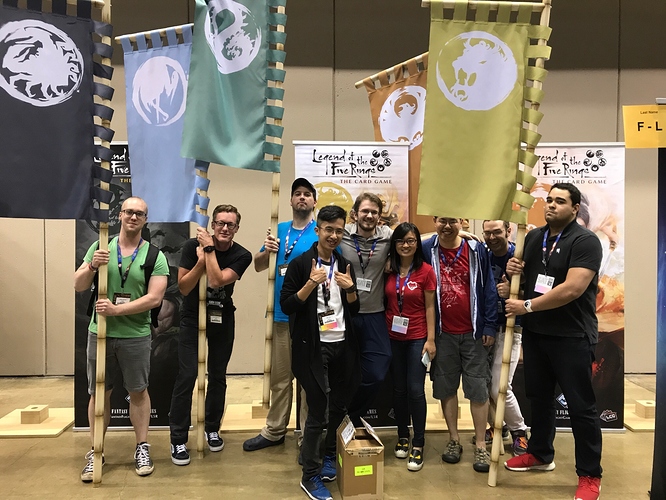 I'll update some more personal experience and deck choices about Gencon later, I still have a list of people to thank for and a list of people to put on blast zone.

So…hope to see all of you at worlds?