Have a favorite friend that would help you do crimes? Would they have your back if you were to participate in an illicit, unsanctioned blood sport? Need some more tiny, cheap cardboard pieces to celebrate your willingness to throw down? If so, Mead Crüe has a tournament for you. We present: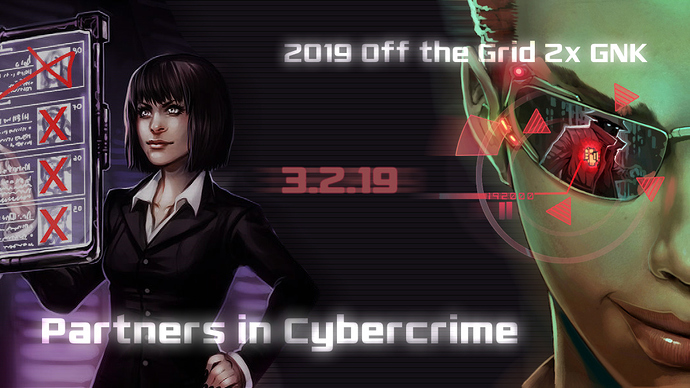 Sweet, Sweet Swag:
2x NISEI GNKs (Both Mats to Top Team, Titan ID Top 3, Rashida Top 16)
FFG Event Center Store Credit (Amount TBD; Based on Attendance)
Misc. Previous GNK Cards (Raffled)
Scorched Earth Prize (Lowest Ranked Team)
Details:
We've gone Off the Grid again. Well, technically, all tournaments are at this point, with NISEI being the unsanctioned provider of continued Netrunner goodness. However, your pals of the Mead Crüe have decided to take this one step further: An illicit format that does not have the blessing of the NISEI collective. Partners in Cybercrime.
This is a doubles tournament, which means you and your best Netrunner friend will register as a team and compete together for glory. Teams will be matched based on total prestige with match-ups between teammates determined by individual performance. Each player will play both sides (Runner and Corp), recording individual results.
As with @spags' lovely King of Servers events, there will be a bit of forced deck diversity here: NO DUPLICATE FACTIONS ON TEAMS. YOU MUST HAVE DIFFERENT A FACTION THAN YOUR TEAMMATE FOR RUNNER AND CORP.
Event goes down at 12:00PM CT on 3/2/19 at Finnegan's Taproom. This purveyor of fine drinkables is located on 817 5th Avenue South, in lovely Minneapolis, MN. We're doing registration on the dot at 12:00PM, with cards hitting the tables at 1:00PM.
Rounds are going to be 65 minutes, with roughly 4-5 depending on attendance. A break for food, around 4:00PM (could change), will be observed for lunch and/or dinner. Finnegan's allows ordered in food, and there's a fancy restaurant next door. It'll be roughly an hour, so plan accordingly.
Entry Fee will be $5 CASH ONLY, which will go towards covering participation prizes, raffle prizes, and a store credit prize. TOs and some contributors will take a cut and then we'll distribute the remainder based on attendance. Not sure on percentages here, sorry. Just gotta trust us.
FULL NISEI STANDARD TOURNEY RULES, FLOOR RULES, MWL, AND PACK LEGALITY WILL BE OBSERVED. Even though this is an illicit event, we're not animals. Please familiarize yourself with whatever the current NISEI rules are, as we will be following them in the spirit of keeping this close to "competitive" Netrunner. You can see NISEI's policies HERE.
Results for the tournament will be posted on Always Be Running. You can see our ABR event page HERE.