I was not a believer until I took the cards for a spin. Unfortunately I do have a predilection towards jank, but as portions the meta slows down this deck is getting a lot better. Here's the "legitimate" deck that actually won a tournament that was not crafted by me.
Goodbye to You. Card Kingdom Store Championship 1st Place
Chaos Theory: Wünderkind (Cyber Exodus)
Event (11)
Hardware (10)
Resource (5)
Icebreaker (7)
Program (7)
15 influence spent (max 15)
40 cards (min 40)
Cards up to The Source
Decklist published on NetrunnerDB.
---
And here's my variant that I've been toying with. I didn't have influence for memstrips, but needed more memory; sue me.
Big Girls Say Goodbye, Sucker | Mark II
Chaos Theory: Wünderkind (Cyber Exodus)
Event (9)
Hardware (11)
Resource (4)
Icebreaker (6)
Program (10)
15 influence spent (max 15)
40 cards (min 40)
Cards up to Chrome City
Decklist published on NetrunnerDB.
Didn't hold the other screen shots, but for my very limited testing time I've won with Monolith in play more often than I've lost with the deck. But, I haven't lost with the deck, so… (legitimately this specific deck needs more testing, but I've given it several reps and another person has won a SC with a variant. This does not belong in the jank thread).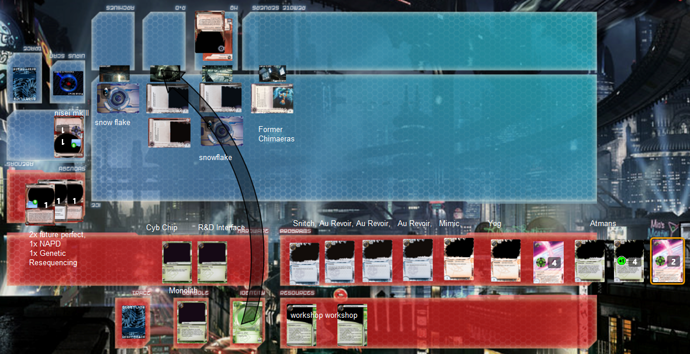 "The breakers included in this deck are pretty close to the most efficient breakers in the game"
---
##Strongest Economy in the Game
Au Revoir economy is very strong once set up. Very few economy options in the game turn a click into 3 credits, and those that do aren't repeatable. Beyond that, knowing every single piece of ice on the board (and you will know every single piece of ice on the board) allows you to commit to only the runs you want to commit to and drop only the breakers you want to break.
The need for memory and access to cards makes it one of the most difficult decks to build outside of shaper. You can build it in Andromeda though. Influence package: 2x R&D Interface, 3x Self Modifying Code, and probably a corroder. 3 snitch and 3 au revoir. I built this with drip economy, but the memory is a lot tighter, forcing you to run box-e and dyson. Several wins with this variant as well, but wasn't happy with it.
Also attempted to build out of anarch, but the influence constraints are in fact too much from initial experiments and there's no internal support to fetching this reliably. You can probably get 2/4 pieces reliably, but never 3/4 needed for a consistent economy engine.
##Skepticisim##
The worst thing about the deck, is the set up time. But RP is the most common threat at the moment, so I'm not worried about that if they don't nisei chain early. NBN and other rush decks are an issue, but with rush decks you'll at least know how to match their ice and what your targets are for SMC before you commit to getting in. In my experience, rush decks will fold if you can put together a strong enough presence that they stop feeling safe scoring out. Which is not to say the deck can't be beat. It totally can, but if this deck makes it to the mid game it will probably win.
Monolith is a good card. And not in the way that Memstrips is a good card. Monolith in this deck is necessary allowing you to drop 3 programs in a single turn, usually without a click. There will be a point in the game where you can take 12 credits 2 or more turns in a row. This is the moment where that Monolith on a workshop pays dividends, because you'll also be sitting on a number of suckers and breakers that complete your rig, and they'll likely be in hand. 3 free clicks; up to 12 credits in savings; and 3 memory is what this deck needed.
Snitch is an amazingly underplayed card. Au Revoir gives you the excuse to play it. Expose is good. In a game of hidden knowledge knowing influence on ice before they are rezzed gives you a major advantage and in an atman deck it lets you know what the right strengths are before committing any money to them. People forget how much you must bluff as corp when putting ice down. Sometimes all of the ice comes down in the right order and is very painful. Most of the time you're bluffing at some point. As the runner, there is no greater power than removing that bluff and knowing TRUTH. And as the corp there's very little else that's as intimidating. When RP is your main match up, turning your first mandatory run into credits makes the whole sherade a little less taxing.
Why not just play Opus? Because there's no synergy. Because you don't get knowledge of the field. Because you can't choose to commit to a run after clicking on it when you find the environment agreeable. And because, as good as 2 credits a click is, its not enough for the whole game.
I think the entire engine is flexible enough that if we're going to have a prepaid deck its probably time to discuss the merits of this. This deck will make you richer by far.