I've gotcher D&D right here!
You should sell 4th ed stuff, so it's extra crappy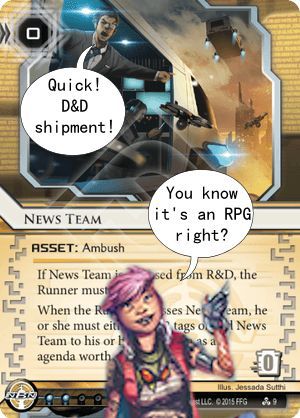 I had a dream Mediohxcore and another friend look a video of me falling asleep on a meatball sub that went viral & Chuck Taylor started dating my neighbor.
Yeah, that'd be great as we'd all get HAMMERED by those who play test… \s
You say that like it doesn't happen all the time already.
It's not like NEH and Haarp won't be amazing either way, but I get the impression that something went totally wrong with boat timing. Like some Captain Phillips shit.
"Look at me, look at me. I play Apex now."
I have a winning record—or at least not a losing record—against people who I believe to be/have been playtesters

Though Worlds this year will almost certainly change that, since I'm dogsciencing the shit out of this.
It's cute people think FFG gives a crap about the competitive environment at worlds
Well, should I come out now and announce that D&D >IS< legal for KOS, proxies welcome?
Also, did I mention that I once had a dream where Lukas was dating my mother, for some reason (beyond the fact that she's pretty hot)?
They give a crap, they just don't give a cent.
FFG clearly either holds no pull at their printer or at the shipyard. Does this kind of stuff happen with Magic?
I think we can be safe to assume that about 3-4 people at FFG are frustrated with D&D release.
My bet is that they will sell it at Worlds, which is a pretty scumbag move, Not ultimate scumbag, but up there.
MTG is a tightly run machine. Their future future league (which was introduced above future league) tests 2 unreleased BLOCKS in advance.
They are so big that they govern largely what printers do in the states that can print for this sort of game.
They do not have problems. But they're a different case and they move a lot more card board and have been doing it for a lot longer.
I remember around 2 months ago I was joking around, saying that there was no way they would have a highly anticipated set NOT be legal for their largest tournament of the year, after spoiling it in August and having it AVAILABLE FOR SALE.
…I'm not laughing now.
It would be unfortunate if D&D were not legal for worlds, but they already realize the issue. Spamming people isn't going to help.
According to the Card Kingdom Twitter (FLGS in Seattle), the distributor has told them they should be receiving their copies of D&D between the 22nd and 26th.
If that's the case, Canada won't get them until I'm already at Worlds. Ugh. Guess I'm buying there, even though that's kinda rewarding the practice.
If they gave a crap they would have just come out and said that D&D is not going to be legal.
Instead they will have 250+ shiny copies "reserved" for all the tournament participants at Worlds.