Right Faust: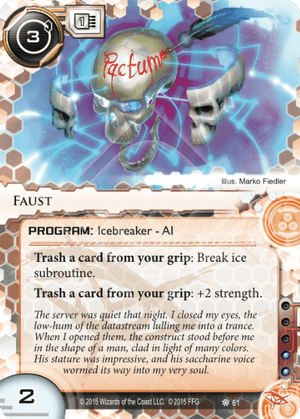 It's a new anarch AI breaker, it looks pretty good. I think it's worth discussing and theorycrafting a bit about. When I've played a bit I might write an article.
It asks us an interesting question. "What is the value of 1 card in our grip?" The value of cards in hand is clearly more than 1 credit (which I think we already knew). I think if the cost were 2 creds for each of Faust's abilities then it would probably see some play. I don't think people would be as excited. Like AI breakers often are, it's really good against early game binary ICE like ice wall, enigma, datapike, quandary, rototurret. It's probably no good vs big multisub ICE like Tsurugi, Hive. It's perfect for breaking Komainu! I don't think many of us are paying 7 cards to go through an exterior Curtain Wall any time soon - but who breaks those anyway. It's awkward against kill decks. Especially those running snare. Datasucker helps a lot.
If history teaches us one thing, it's that Pancakes are the food of the Devil. Wyldside and Adjusted Chronotype is the most efficient long term solution for drawing cards. This leads to the conclusion that Noise (who likes pancakes and doesn't often invest in efficient ice breaking solutions) likes Faust. Here's my first stab at the Pancake Pact:
Noise: Hacker Extraordinaire (Core Set)
Event (9)
Hardware (3)
Resource (15)
Icebreaker (2)
Program (15)
15 influence spent (max 15)
45 cards (min 45)
Cards up to The Underway
Deck built on NetrunnerDB.
This deck started as @kiv's Party All Knight list. It probablly hasn't changed enough. I'm not sure taking the knights out completely was the best plan. Is there a need for hotels as well as parties?
@mediohxcore suggested that Andy might like it for a turn 1 siphon. I can see that, I wonder what sort of draw engine you could create in Criminal (3 earthrise, 3 Quality Time perhaps). 2 inf is a steal for a pretty efficient swiss army knife.
I can think deep into the jank tank in shaper with a giant hand size (Bagbiter???), Game Day.
I do think all emergency Crypsis should most likely be upgraded to Faust. I'm not certain where Headlock stands. I'd be interested to hear the hive mind's thoughts on that.
So what are your thoughts on Faust. Does it change everything? Is it flavour of the month? Is it somewhere in between? I like it a lot, it's interesting game design and I think makes Noise somewhere close to top tier. I think any anarch deck with a primarily AI plan should consider it. I wonder how best to mould the econ package to support it.
Surely it should be called Mephistopheles?