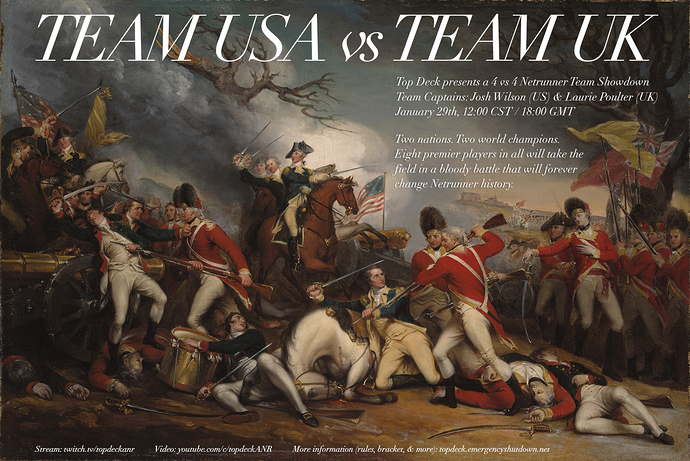 Hello everyone! After a little hiatus for the birth of my son Shelby, Top Deck is returning this Sunday, January 29th at 12:00 CST/18:00 GMT. Before jumping into another monthly cup we are having a special one day feature match. This will be a team match between USA and UK. Team captains Laurie Poulter (UK) and Josh Wilson (USA) have selected 4 players each to represent their respective countries. The line-ups will feature two Netrunner world champions along with 6 other premier players. Full line-ups along with player IDs will be announced the day before the match commences.
What: USA vs. UK 4v4 team showdown
When: Sunday, January 29th at 12:00 CST/18:00 GMT
Where: Live stream- https://www.twitch.tv/topdeckanr
Videos- https://www.youtube.com/c/topdeckanr
More information (rules, bracket, and more): https://topdeck.emergencyshutdown.net
Team size: 4 players (team captain may be designated as one of the four players or may sit out and strictly manage the team)
ID selection: Each team must have one representative for each faction (Shaper, Anarch, Criminal, Weylan, HB, Jinteki, NBN). Since there are only 3 runner factions, each team may select from one faction twice on runner side. However the ID must be different than the other ID from the same faction. This is just like King of Servers. Decklists are submitted to the TO prior to the event.
Each team will be informed of each player's ID choices from the opposing team prior to the match beginning.
Win condition: Once every player on a team has lost once (runner or corp), that team loses the showdown and the other team is declared the winner.
Structure: One match will be played at a time. Both teams will secretly select their first player. Once player selection for the first match is submitted to the TO, the TO will randomize who will play corp or runner and the first game will take place. A game in this context only consists of one side (runner or corp). After one game, the losing player is eliminated and the losing team must select a new challenger to play against the winner of that game. The challenging (losing) team also gets to select which side to play (runner or corp) against the previous game winner. Play continues like this until one team has suffered 4 game losses (sides).
Deckbuilding rules: Normal tournament rules apply (MWL, etc). Quorum is legal.
Time: Matches are untimed.
Team communication: No communication with the active player during a game is allowed. Teams are allowed to confer with each other in between matches. The team captain has final say on all decisions.
Thanks to @eric_c for the sick flyer and @Hermit for hosting and maintaining the site!