Hello Stimhackers! This week will be the first week of the Top Deck Monthly ANR cup. Every month 16 competitors will play in one best of 3 match per week in a single elimination bracket. Each player will play a runner side and a corp side. If the match is then tied at 1-1, a 3rd random side will be played to determine the winner. By the end of the 4 weeks we will have crowned the monthly champion.
There will be one featured match per week streamed at twitch.tv/topdeckanr which will be hosted by myself and one guest co-host. For the first week I am happy to announce that Hollis "@HEacho" Eacho will be joining me to cast our first match which will take place on October 7th at 7:30 PM Central Standard Time and feature Jonas "@thebigunit3000" Wilson and Dien "@d1en" Tran. We look forward to bringing you an exciting match as these two square off in round one of the tournament. Escalation will not be legal this week but is subject to change for next week.
The 16 players have submitted decklists for week 1 and will continue to submit a new deck list every week that they remain in the tournament. There will be no time limits for these matches and other standard tournament rules apply.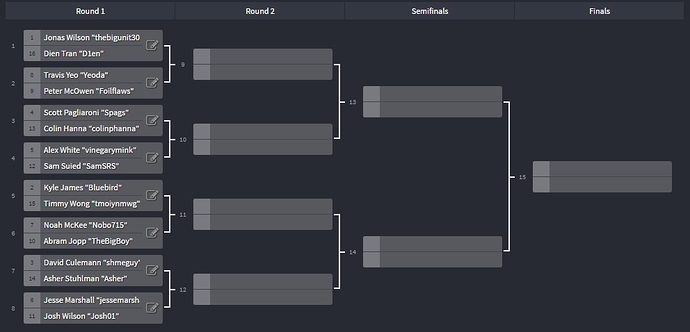 And here is the bracket with live updates.