So there has been an interest in making a general discussion on the different metas we have all over the world.
So everyone knows that if you're playing against someone who's from the UK and is Weyland, you need to get your plascrete ASAP. Also, if you're playing against someone from the North America, you're pretty much safe - they only play the 'boring' stuff - PPVP Kate, NEH, RP, occasionally ITD Bootcamp glacier, while we, Europeans are bloodthirsty bastards who will always find a way to murder you, be it throwing a giant space rock at your house, bleeding you out or some other way.
But how true all of these anecdotal statements actually are? That's why I've created this thread - so that we all could share our common experience and so that we could get a huge compilation of the different metas we have all over the world.
I'll start with the Baltic meta. It definitely is small, last tournament we had was the Store Championship in Riga and we had 18 participants. While that isn't a lot, at least 5 people didn't attend, and you have also take into account that we had participants from all the 3 Baltic countries. While we don't have as cutthroat competition as other metas have, we still are quite competitive and like to experiment a lot. Quite a few of us don't mind netdecking, but we don't simply just take Calimsha's Kate or Dan's RP and just slap it on the table, we seek for cool decks that are fun to play but are still good.
Here's what we had after 5 rounds of swiss: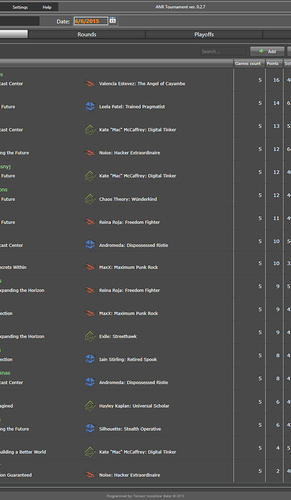 I'd argue that we have a pretty balanced meta, having all factions almost equally represented (sorry, Haas, you weren't welcome!). All 3 NEH were Butchershops and I can agree with the opinion that we have a lot of kill decks in Europe, I think about a half of the corps had at least a backup plan of killing the runner. On the runner's side we had 3 Kates, even an Exile (which only lost one game), 2 Maxxs and 2 Headlock Reinas. The problem is, we don't have a HUGE amount of people, so it's hard to go very deep into analysis, however, we'll have regionals later this year that might go into 30+ range, so they'd be interesting to muse about.
SO, to conclude, I think the Baltic countries have a very healthy meta, consisting of not too many, but enough kill decks and a lot of fresh, unorthodox decks.